C101D FUEL DISPENSER
The most popular commercial pump is now available with modern styling, electronic register, electronic totalisor and extremely robust nozzle switch mechanism. This is a commercial pump with retail accuracy and performance.
For diesel and bio fuels only.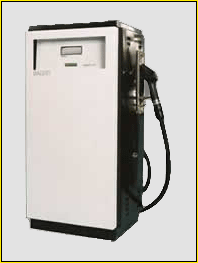 Nozzle
Automatic nozzle complete with swivel

Electric Motor
0.56/0.75 KW motor with thermal protection.

Metering Unit
High accuracy, piston meter

Pump Unit
Heavy duty rotary vane pump with integral air separator.
Removable filter.

Construction
Heavy duty frame, protection by high quality paint on treated metal.

GENERAL SPECIFICATION
| | |
| --- | --- |
| Maximum Pump Head | 5.5m |
| Maximum Inlet Pressure | 1.3 bar – For Above ground tanks fit pressure regulating valve |
| Maximum Flow Rate | 5 liters/min |
| High Hose Mast | Optional |

MODELS
| | |
| --- | --- |
| C101D | 40-50 l/m ¾ inch hose 3.5m |
| C101DH | 70-80 l/m 1 inch hose 3.5m |