FD102
FD100 Series Dispensers have been designed for a wide temperature range between – 40 to + 55 deg C. The dispensers comply with the latest European Standards on safety and metered accuracy.
Two product two hose with four displays. It can be operated as a stand alone unit (attendant service mode) or in the self service mode. In the self service mode the dispensers are controlled by a PC with Balvin FDX software.
Specifications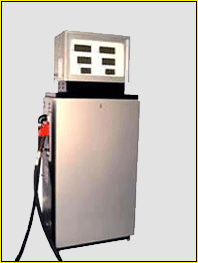 Electronic Register
Backlit liquid crystal display
Sale 25mm 6 digits
Volume 25mm 5 digits
Unit Price 18mm 4 digits
Pumping Unit
Heavy duty Self priming positive displacement
Removable filter
Pressure relief valve
Float chamber for back suction
Metering unit
High accuracy four piston flow meter
Viton and ptfe seals
Long service life
0.25% accuracy over the full flow range
Motor
Electronic switching eliminating the centrifugal switch for long service.
Nozzle Switch
Robust magnetic proximity switch operated
by nozzle spout within the nozzle boot
GENERAL SPECIFICATION
| | |
| --- | --- |
| Maximum Flow Rate (Standard) | 45 liters per minute |
| Maximum Flow Rate (High Speed) | 80 liters per minute |
| Minimum Flow Rate | 5 liters per minute |
| Motor Speed | 1420 rpm |
| Minimum metered out volume | within 0.25% limits |
| Maximum inlet Pressure | 1.4 bar – 20 psi |
| Maximum Pump head | 5.5m |
MODELS
Models suffixed with H for High Speed
Models suffixed with P for Preset dispensers
High hose mast – Optional