Tank Gauge
Miakoda tank gauge is linked to a PC either by cable or RF.
Stand alone version of Miakoda tank gauge is battery powered.
Features: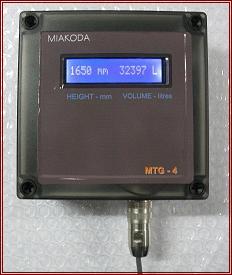 • Single and Dual tank gauges.
• Communication by RF link.
• Tank stock measured in mm and litres.
• Continuous reading of contents when filling.
• Maximum tank height 4m.
• Mains Powered.
• Battery Powered.
TG Software:
• Capability of monitoring up to 6 tanks if connected in series
• User defined mass density correction factor
• User defined audible low fuel alarm and reorder alarm
• Graphical display of fuel quantity
• Delivery log for reports and analysis
• Graphical reports of fuel usage
RF Features:
• 100m line of sight
• Can penetrate brick walls, aluminum doors and buildings with some attenuation
• Cannot go through steel enclosures or buildings with steel doors
TG4 Kit includes:
• Tank gauge TG4 or TG4-2
• Plastic tubing 10m length 6mm OD
• 1½' BSP male connection adaptor with gland
• 1/8' BSP weight to 6mm tube adaptor
• Weight
• TG4 software on CD
• TG4-2 kit comprises two off 15m tubes, 1 ½' BSP adaptor. 1/8' BSP adaptor.